Ratings & Scores for Plusnet
Our rating
Trustpilot rating
If you're looking for a 'good, honest' broadband deal b Plusnet then look no further. Their broadband claims to be made up of value for money and industry-leading customer service. Here in this article, we're going to check out the latest Plusnet Broadband packages and deals available and rate them for you.
Are Plusnet Broadband deals worth getting?
One of the biggest players in the UK's broadband industry, and ultimately owned by BT, Plusnet Broadband also offer some of the cheapest contracts seen across the country.
Coupled with their award-winning customer service it's no wonder they have more than a million happy customers. If you sign up to a Plusnet Broadband offer today, you will benefit from unlimited downloads regardless of the package that you choose.
Not only that but you may also get a sweeter deal with a free gift when you sign-up. Check out the latest Plusnet Broadband deals on this page above, to find out more.
What packages do Plusnet Broadband offer?
Plusnet are dedicated to keeping thing straightforward, by offering three different broadband packages. These are:
Unlimited Broadband. This is their entry-level

standard (ADSL) broadband that requires a landline and will give you speeds of up to 10Mbps. This is fine for small, single occupancy households who just want to surf the web or send emails from time to time.
Unlimited Fibre. This is Plusnet's most popular fibre broadband package and boasts average speeds of 36Mbps, which is ample for smaller family homes with three or four occupants, two of which are young children.
Unlimited Fibre Extra is the fastest package that Plusnet Broadband offer and will give you average speeds of 66Mbps, which makes it ideal for larger families with older children who spend a lot of time streaming movies, gaming online and video calling or browsing social media.
Not all areas can get Unlimited Fibre or Unlimited Fibre Extra so be sure to refer to the postcode checker on Plusnet website to see what broadband package you can get, or enter your postcode here to find out more about fibre.
Can I get a 12 month contract with Plusnet?
The great thing about Plusnet Broadband is the fact that they are one of the few broadband providers who still offer 12-month contracts.
You can choose between a 12-month or 18-month contract on any package, although if you're looking for value for money and don't need the extra flexibility of the 12-month contract, the 18-month contract is usually cheaper each month.
You will need to have an active phone line in order to sign up to Plusnet as all of their packages use your existing cabling. The great thing is that they include the line rental within the cost of their broadband deals, so you don't have to pay any extra for the line.
With all packages, you only pay for the calls you make with their Pay As You Go calling plan. If you're a regular user of the home landline, then there are packages you can buy to make things cheaper.
What Plusnet Broadband call packages can I get?
If you like to make a lot of calls, then a Plusnet call plan will almost definitely save you money compared to their default Pay As You Go call pricing structure.
Note that this shouldn't be confused with Pay As You Go broadband which is different.
There are several different call plans to choose from with Plusnet Broadband; they are:
Evening and weekend UK and mobile calls – which means that you can call UK landlines on Monday to Friday between 7pm and 7am, as well as all weekend. You also get 1,000 minutes to call mobiles during these times.
Unlimited UK and mobile calls – For the bigger talkers out there, this call plan offers you unlimited calls anytime to UK landlines and 2,000 minutes to mobiles in the UK.
Anytime international calls – this will give you 300 minutes to landlines or mobiles in any of 35 overseas locations including the USA and Canada, and all-inclusive UK calls. It also includes a 25% discount on calls to landlines in 35 countries.
Regardless of your call plan just being a Plusnet Broadband customer means that you will get free calls to other Plusnet numbers. Call plans are all available on a 1-month rolling contract, so you have complete flexibility as well as peace of mind.
Can I get Plusnet Broadband without a phone line?
Unfortunately, no. Plusnet will use your existing phone line to supply both their standard and fibre broadband to your home. The good news is that the line rental fee is included in the price so there are no additional costs to pay veery month, making Plusnet one of the most affordable broadband providers out there.
Do Plusnet have any deals for existing customers?
Plusnet love loyalty, and as such they will reward their existing customers. If you are already an existing Plusnet customer, then there are a few perks you can enjoy when signing up to Plusnet Broadband. These are:
If you get a SIM-only mobile deal in addition to your Plusnet Broadband contract, then you get an additional 2GB of data for free each month on your mobile.
Plusnet have their own antivirus package for your computer and other internet-enabled devices. Plusnet Protect is free for all Plusnet customers.
You can also save money on your monthly bill by referring friends and family to Plusnet. Once they have joined it is then free to call them.
Plus, new Plusnet customers can typically enjoy incentives for signing up such as cashback, a Gift Card or Reward Card.
This contrasts with Sky Broadband's deal who do not typically offer any kind of free gift for loyal customers - only to new ones.
Is it easy to set up Plusnet Broadband?
Most people will be able to set up their Plusnet broadband service on their own using the instructions provided and without the need for an engineer to visit.
The instructions are pretty simple, and it's normally a case of taking delivery of your Plusnet router, plugging it in and turning it on.
The Plusnet router is called a Hub, and there are two different versions of it.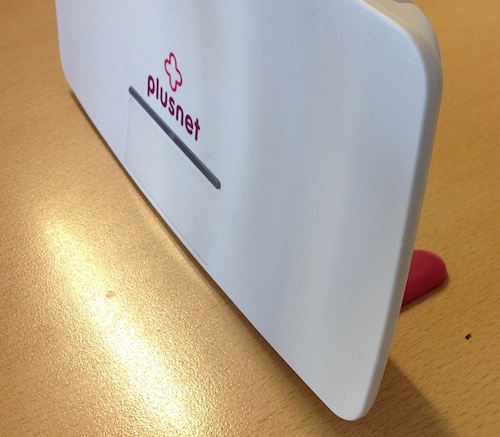 However, if you don't have a landline, you may need to have one installed, because to use any of Plusnet's three non-fibre packages it's a requirement sadly. A Plusnet engineer charges £65 to do this, which is quite a lot, so better to ask a friend if you know someone techy.
Are Plusnet reviews good or bad?
If you're concerned about the customer service levels at Plusnet, then don't be. In fact, many reviewers on Trustpilot suggest that Plusnet are one of the better ISPs in the UK today. This is mainly because of their promise to employ only Yorkshire based staff on the phone.
This is a bit of clever marketing though, because their other support staff for example on their livechat service, are based in India.
If you don't want to have to speak to someone in India, then definitely avoid TalkTalk because their customer service staff are all based in India and very hard to get hold of. Read our full review of TalkTalk's customer service here.
Their TV adverts are famous and have a bit of a cult following, too. The Yorkshire angle is certainly repeated throughout.
The good bits about Plusnet Broadband
There are loads of reasons to sign up to a Plusnet Broadband Deal. Here are the main ones:
One of the UK's cheapest providers of standard and fibre broadband
Shell Energy deals are generally cheaper, though
Ample speed for most households at an affordable price
Award-winning customer support based in the UK
Deals in the form of gifts and vouchers for remaining a loyal customer
Rare 12-month contract as well as 18-month contracts available
Recommend friends and family to save money on your monthly bill
Do I need to do a credit check to join Plusnet Broadband?
No, you don't.
If you are looking for other no credit check broadband offers, then compare them all here.
Unlike other providers, you don't have to undergo a credit check to sign up to Plusnet Broadband at the time of writing. If this has changed, please notify the broadband.deals team and we'll update this review.
Conclusion: Are Plusnet Broadband Plans worth getting?
So, there you have it.
All in all, Plusnet broadband will give you what you need for a price that you can afford, without compromising quality or customer service.
If you're just looking for a good broadband package without all the bells and whistles, but with a price that's fair, then you can't go far wrong with Plusnet Broadband. In particular if you have a bad or no credit history and are worried that you will not be accepted by other broadband providers.