Reasons to choose a Vodafone broadband tariff
Thinking of changing to Vodafone but not sure what broadband deals are on offer? Well, no wonder you're feeling a bit confused: with so many different broadband providers in the UK it can be difficult to make the decision of which one to go with.
Vodafone is an established name in the broadband (and mobile) niche, but are they still worth getting? It is important to find the right broadband tariff that suits you, and (let's be honest) there are a lot of things that can confuse you when it comes to switching provider.
Should I switch to Vodafone broadband?
Here at broadband.deals we like to help you choose the perfect broadband deal for you. Here is our quick guide to changing broadband provider:
Firstly, perhaps THE most important thing is the quality of the service. Tahnkfully, Vodafone is an established UK-based telecoms company, and they are known for providing a high-quality service that is reliable, and easy to use.
What's more, they're also British owned and run. Most of their support staff are based in the UK.
Having been in the industry for a long time, they have a wealth of experience, and have a wide range of products that are available. But they aren't necessarily the cheapest, unless you use a discount code or promotion to sign-up.
Vodafone Broadband: Which Plan Is Right For Me?
Vodafone's" Gigafast" broadband packages offer a variety of different options and speeds, ranging from 100Mbps to 900Mbps. Gigafast is basically their name for fibre broadband - it uses full fibre technology to connect your home to the internet. The service is available in over 8.8 million homes in the UK, making it one of the largest fibre broadband providers in the country.
Currently, there are many large towns and cities in the UK where you can sign up to the Vodafone fibre plans. And even if you aren't included, more are set to be added in the future. While Vodafone Gigafast is available in several areas of the country, the speeds available can vary widely, so do your homework first.
If you're looking for a broadband plan with the fastest download speeds, you may want to check out the Full Fibre 500 plan. This service is 13 times faster than standard fibre broadband, and it can stream ultra-HD (4K) video on up to 20 devices at once. You can also enjoy a range of other benefits with this plan, including unlimited downloads and Apple TV 4K.
Vodafone: Cheaper options for ADSL
In addition to its high-speed plan, Vodafone also offers two lower-priced options. These include Full Fibre 1 and Fibre 2. Both of these are suitable for most homes, though you may need to invest in a more advanced device if you're planning on using 4K video on more than a single device.
Those who have a more expensive home may also consider the Fibre 2 option, which provides average download and upload speeds of 67Mbps and 20Mbps. This is an excellent option for busy households with multiple devices.
You can also choose from three ultrafast broadband packages, namely Pro II, Full Fibre 2 and Superfast 3. Availability of these services will depend on your location, so you'll need to do some research.
Whether you decide on Vodafone Gigafast or another plan, make sure to test the speed before signing up. Once the kit arrives, try out the speeds to see how they perform. Remember to turn off any devices you don't need, such as security cameras, to conserve bandwidth.
Do I still need to pay line rental with Vodafone broadband?
It depends on which plan you choose. One thing you'll have to pay for with Vodafone's "home broadband" (not fibre) is line rental, but this is now included as part of your monthly price.
However, don't fret. You can get a discount on Superfast Broadband if you subscribe to the Vodafone Together package. For a limited time, you can save up to £380 a year by signing up to both services. Also, if you're a mobile customer, you can get a discount of up to £3 a month on Superfast Broadband if you take out a SIM Only plan from Vodafone.
Vodafone's Broadband plans: At a glance
Vodafone offers a variety of broadband and fibre packages to suit the different needs of its customers. Some of the best packages offered by Vodafone are:
Superfast 1: Vodafone's Superfast 1 package provides speeds of up to 35 Mbps and is ideal for households with a single or few users who engage in basic online activities such as browsing and emailing.
Superfast 2: With speeds of up to 63 Mbps, Vodafone's Superfast 2 package is suitable for households with multiple users who engage in online gaming, video conferencing, and streaming.
Superfast Fibre Plus: For households that require faster internet speeds, Vodafone offers Superfast Fibre Plus, with speeds of up to 100 Mbps. This package is ideal for customers who engage in intensive online activities such as 4K streaming, online gaming, and large file transfers.
Superfast Fibre Max: Vodafone's Superfast Fibre Max package provides speeds of up to 900 Mbps and is suitable for customers who require the fastest and most reliable internet services. This package is ideal for businesses that require ultra-fast internet for their day-to-day operations.
Vodafone offers flexible and transparent packages, with no hidden costs or long-term contracts. The company also provides excellent customer support services, with knowledgeable technicians available to help customers with any questions or issues they may have.
In terms of pricing, the cheapest Broadband plan from Vodafone costs £22 a month - it is known simply as "Vodafone Broadband".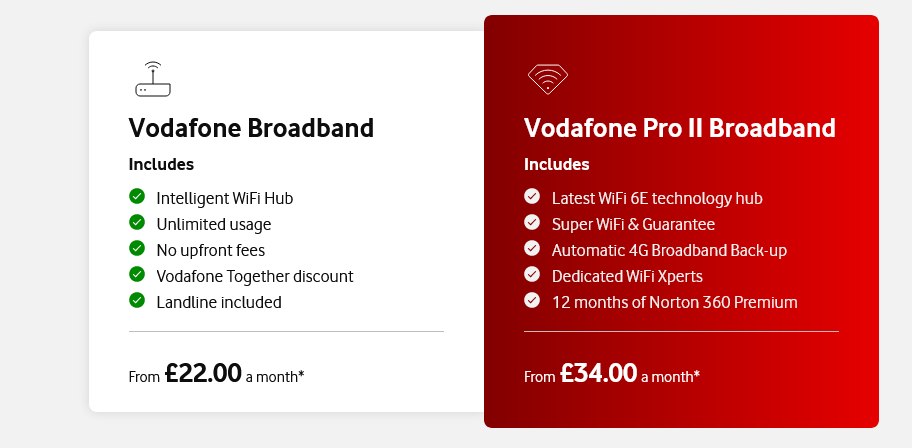 For users who want to enjoy other perks with their Vodafone broadband, this is really where the company shines. And don't forget you can also compare broadband prices for businesses too.
What about SIM Only + Broadband with Vodafone?
As a telecoms giant they also offer significant savings on your Vodafone mobile SIM Only plans - details here. This means that by combining the two separate plans into one, you can save easy money.
By combining their broadband and SIM only plans, Vodafone provides customers with a comprehensive and convenient solution for their internet and mobile needs.
Vodafone's SIM only plans are also designed to meet the different needs of its customers. The company offers a range of plans, including Pay Monthly and Pay As You Go plans. The Pay Monthly plans come with a range of minutes, texts, and data allowances, while the Pay As You Go plans allow customers to pay for only what they use.
What is the best Broadband deal for Vodafone?
Currently the best Vodafone Broadband Plan costs £22.99 giving you unlimited data, subject to fair-use clauses.. With Vodafone you can also cancel within 30 days for their rolling broadband contracts.
Can I get unlimited downloads with Vodafone?
Yes, unlimited data on Vodafone is really popular so make sure you get enough bandwidth to cover your needs.
How much can I save with Vodafone 12 month Broadband?
Of course, it depends on what plan you were on before. But with a Vodafone Broadband plan or contract over 12 months, you can of course cancel any time and switch. You are not tied in with Vodafone a lot of other deals.