Ratings & Scores for Sky
Our rating
Trustpilot rating
When it comes to getting fast download speeds around the home, deals on Sky Broadband are highly recommended. This is because not only do they offer reliable broadband, but customers can also get Premier League games and the latest blockbuster films too.
So, if entertainment is your thing, a package with Sky will go hand in hand with the things you love to do.
Why choose Sky Broadband?
If you choose one of Sky's broadband packages then you can expect a fast and reliable connection whether you have standard (ADSL) broadband or fibre optic broadband, with the high-tech Sky Hub router.
However, the real selling point for Sky as a company is the access to a Sky Q set top box - as well as live sports and movie premieres through Sky Movies or Sky Cinema.
What broadband packages do Sky offer?
Being one of the larger broadband providers, Sky offers a range of ADSL packages so there is literally something for everyone, and the prices start from £25 a month for their non-fibre broadband.
If it's fibre that you're after, then Sky offer that too - be sure to run a price comparison on all the fibre providers near you, here.
The current broadband packages & deals that Sky offer are as follows:
| | | |
| --- | --- | --- |
| Package name | Average speed | Suitable for… |
| Sky Essentials | 11Mbps | Very light usage, such as single or twin occupancy households, who browse the internet but don't stream much |
| Sky Superfast 35 | 35Mbps | Entry-level fibre optic broadband which is available to 96% of households in the UK |
| Sky Superfast | 59Mbps | Also widely available, and more suitable to the average household |
| Sky Ultrafast | 145Mbps | The first of the premium fibre optic broadband services that offer great speeds and better reliability. Not as widely available as slower speeds |
| Sky Ultrafast Plus | 500Mbps | For the larger households who use many devices simultaneously for streaming, gaming and browsing social media |
| Sky Gigafast | 900Mbps | Some of the fastest fibre optic broadband speeds available from larger companies, allowing you to connect more than 120 different devices |
Sky also offers something called Sky Broadband Boost. This is an optional add-on to help you get the most from your broadband connection and take your internet service to the next level. It costs an additional £5 per month on top of your Sky package, and for that you get:
Anytime engineer visits (at no extra cost)
Daily checks on your broadband line, with immediate fixes
Extra date in your Sky Mobile Piggybank for Sky Mobile customers if for any reason your broadband drops out
Wi-Fi guarantee of at least 3Mbps in every room within the home, or your money back
Broadband Buddy app, which includes things like parental controls
How long are Sky's Broadband deal contracts?
Sky's broadband packages as well as the Sky Broadband Boost come with an 18-month contract as well as unlimited downloads – so you will get no nasty billing surprises at the end of the month.
Can I get Sky Broadband where I am now?
Sky is a major player in the broadband industry, and they claim that they can cover 96% of households with at least 35Mbps fibre optic broadband.
The chances are you can get a decent Sky connection in your area, but the best way to check is on the Sky broadband website where you will find their postcode checker.
Alternatively, you can enter your postcode on this page (above) to compare broadband deals near you - in other words, we'll check to see if you're in a Sky-enabled area, among all the other internet providers. There's also a coverage map available if you can find it.
Do Sky Broadband offer call packages?
Yes, absolutely. Here are the main points:
Sky Talk Evenings and Weekends Extra – costs an extra £5 per month and you get unlimited evening and weekend calls to UK mobiles and landlines
Sy Talk Anytime Extra – Costs £12 per month, and you et unlimited anytime calls to UK landline and mobile numbers, and international calls for 2p a minute to 22 different countries
Sky Talk International Extra – Costs £14 per month and will give you unlimited calls to UK mobiles and landlines, as well as 50 worldwide destinations.
All of the above call plans from Sky come with extra cool features such as caller display, 1571 return call and automatic withholding of your phone number. And just like with the broadband packages they come with 18-month contracts.
Is it easy to set up Sky broadband?
The majority of Sky broadband customers will be able to set up their connection themselves, with a few exceptions requiring an engineer to visit.
If you already have a broadband package with another Openreach provider such as BT, TalkTalk, or EE then you already have all the stuff you need to plug and play straight to Sky broadband. Installation will simply be a case of plugging in the Sky Hub/router, switching it on and then connecting your devices.
The main exception to this rule is if you choose the Sky Ultrafast or Gigafast broadband packages which are FTTP (fibre to the premises) packages. Home installation will require an engineer visit as Sky will need to be able to provide fibre optic cables from your local exchange to your home.
Sky TV - What plan is best for me?
Let's be honest, Sky TV is what Sky are known for, and it's how they forged their reputation and became so successful with their broadband and mobile phone offerings too. Sky boasts a new big-screen drama every month on Sky Atlantic, as well as loads of premium sport and movie premiers all on the excellent Sky Q box – no other TV provider comes close to offering what Sky does.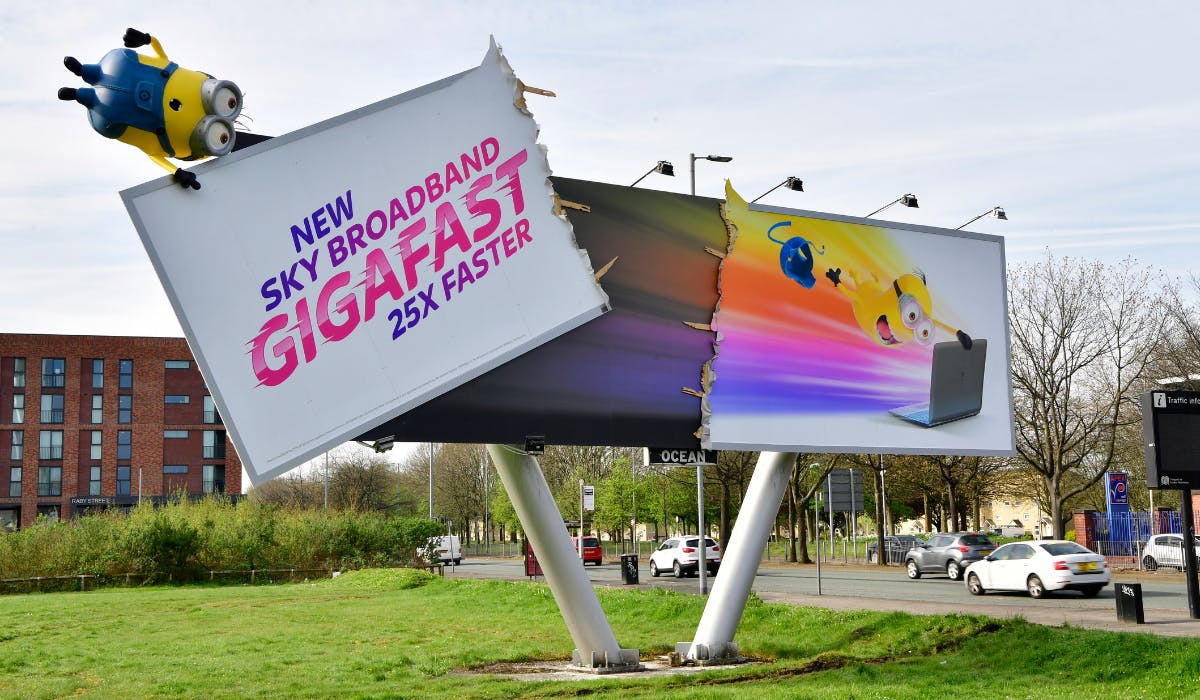 All Sky broadband customers get Sky's unlimited TV package as standard, which has over 300 channels including Sky One Sky Atlantic, and Fox.
All of this is in addition to Sky Box Sets on-demand and 40 catch up channels. It's also very configurable, so you can tailor your TV package to suit whatever you like to watch, whether that's more films, more sports or more music. And to enhance your TV experience further you can also buy Sky multiscreen, HD and Ultra HD+ add-ons.
The Sky Q Box - Is it worth it?
Despite being over 6 years old now, the Sky Q box is still one of the best set top boxes, boasting the following features:
One-press to record an entire series
1TB or 2TB storage options for recording
Watch in one room and then pick up in another
Voice activated remote
Pause, rewind, restart and record live TV
What about Sky Glass deals?
Sky Glass is an even fancier way of getting Sky TV in your home. You don't need a set top box or a Sky dish. Instead, the TV all comes through your broadband connection – you just buy a special Sky Glass TV to get it.
The Sky Glass has had mixed reviews so far, but we're hoping that it improves over time.
You can find several Sky Glass deals here.
Do Sky do business broadband deals?
They do, but under the Sky Connect brand. You cannot order a Sky package - whether TV or internet - if you are a business. Check out our latest Sky Connect broadband bundles and offers here.
What are the best bits about Sky Broadband...?
Sky is an amazing company if you're a TV fan, but also if you want cheap broadband too without the TV. You don't need to be a Sky TV customer to get broadband.
What's more they have a lot to offer if you need to be entertained. As a result, there are numerous reasons to sign up to Sky Broadband deals. Here are just a few of them:
Sky offer a decent range of both ADSL and fibre optic broadband packages
You can bundle your broadband with TV, home phone and mobile to make the most out of your services
They offer the most comprehensive TV packages in the UK
Highly regarded movie channels, showing blockbusters straight from the cinema
Exclusive sports channels with Sky Sports
Excellent customer service that is highly rated
Sky also won the coveted Ofcom "least complained about" ISP very recently. Great news if you're concerned about a lack of customer service, as Sky have won this award two years on the trot now.
For comparison, the worst-rated broadband provider is Shell Energy - you can view all the deals for Shell Energy here.
Sky Broadband: A Summary
So, if you want your broadband provider to be one of the biggest players in the home broadband industry, then Sky are going to be a safe bet. As well as excellent broadband that comes in a whole host of different packages depending on what speed you think you'll need, you'll also get access to what is arguably the best TV solution in the UK that is fully customisable and offers no end in different entertainment sources.
Sky are reasonably priced too considering they're an all-in-one solution. And if you really become a Sky superfan you can change your mobile phone /SIM Only tariff to Sky too and save even more money.
We've written a more in-depth review of Sky broadband here if you want to find out about their coverage and any customer service issues.