Ratings & Scores for Virgin Media
Our rating
Trustpilot rating
Virgin Media offer fairly special broadband deals, because most broadband providers use the network put in place by BT. However, Virgin Media uses its very own network, and it's more efficient and generally the fastest broadband you can get.
But it isn't the cheapest, particularly once you start bundling other things with it.
Read our honest review of Virgin Media broadband here.
It's not surprising then that Virgin Media have been offering broadband speeds way beyond the competition for years now. And because they're such a large company they can also offer a competitive price for their excellent speeds as well.
In terms of fibre optic broadband availability, Virgin Media have the market cornered - their coverage reaches far beyond that of most other providers.
Why choose Virgin Media broadband?
There are many reasons to choose a broadband plan from Virgin Media.
For starters it's the fastest, widely-available broadband internet available in the UK. Other rival companies such as Sky broadband and BT broadband are now beginning to match the speeds of Virgin Media, but they are of course miles behind of them in terms of coverage.
And most fibre optic broadband providers are considerably more expensive than Virgin Media.
Being cheaper isn't the reason alone to choose Virgin Media over the others.
Virgin Media are one of the few providers who don't require you to get a landline when you take out a broadband package with them. They also offer their own TV package which boasts hundreds of channels as well as the option to add other premium channels such as those from Sky. And the Virgin Media TV package is just as good as — if not better — than the packages offered by Sky.
Whether you're looking for business, home or mobile broadband deals, then Virgin Media will have something for you. And the more you bundle together, the more money you will save over the course of your 18-month contract with them.
What packages do Virgin Media broadband offer?
In terms of fibre optic broadband, Virgin Media offer a wide range of packages with varying connection speeds, to suit pretty much anyone. Here are the package names and expected speeds:
| | |
| --- | --- |
| Package name | Expected speed |
| 🔥 M50 by Virgin Media | 54Mbps |
| 🔥 M100 by Virgin Media | 108Mbps |
| 🔥 M200 by Virgin Media | 213Mbps |
| 🔥 M350 by Virgin Media | 362Mbps |
| 🔥 M500 by Virgin Media | 516Mbps |
| 🔥 Gig1 by Virgin Media | 1130Mbps |
Virgin Media actually offer the fastest widely available fibre optic broadband package in the UK, and the average download speeds of that are 516Mbps. So, if it's speed and reliability are important to you, there's probably no point looking any further than Virgin Media.
And just like the majority of fibre optic broadband provers, Virgin Media offer truly unlimited downloads. This means that you can use the internet as much as you like, without the nasty surprise of an expensive bill at the end of the month.
Contracts are all 18 months, and although there is a setup fee, it is quite often waived for new customers. Check out the Virgin Media broadband deals on this page for more details.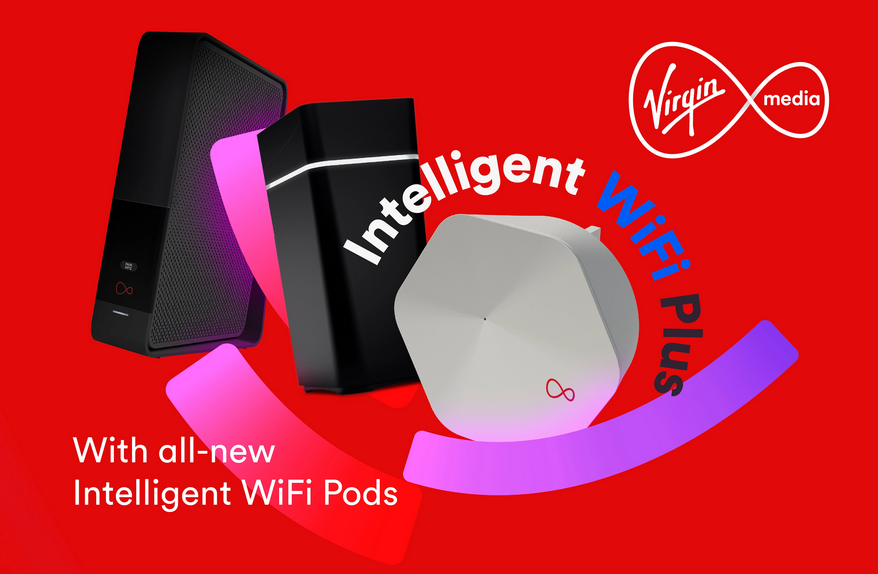 What bundles do Virgin Media offer?
The bundles offered by Virgin Media allow you to combine your TV, broadband and phone so that they are all from the same provider. The advantage of that is that you can save money when you bundle them together, and it's far easier having one single monthly payment for everything.
If you don't use a home phone and therefore do not require a landline, then Virgin Media won't make you take one — which will also save you money on line rental. Here are the bundles that Virgin Media currently offer:
The TV bundles are also configurable, so you can add extra channels such as sports, movies, drama or documentaries.
Virgin Media TV packages revealed
If you want one of the best TV and entertainment packages available in the UK, then Virgin Media are a provider that you should seriously consider.
As Sky's main rival, Virgin Media offer anything from 100 channels all the way up to over 300 channels with the option to add on sports and movie channels too. When you sign up to a Virgin Media TV package you will get a Virgin TV 360 box, which is 4K ready and will also let you sign into your usual streaming services.
What call packages do Virgin Mobile offer?
Virgin Media currently offer four different talk plans for your home phone. So, you're bound to find one that's right for you whether you just like to talk on the evenings or weekends, or you're one of those people who are on the phone all of the time.
You will also have the option to add a mobile SIM-only deal to your Virgin Media contract. These are known as Volt bundles. Interestingly the SIM will be provided by the O2 network, and not Virgin Mobile.
Does Virgin Media offer broadband-only packages?
Yes. Because all of Virgin Media's connections come from fibre optic cables and cable, they do not require you to have a landline in your home. Therefore, you can get broadband without the landline if you require. Not only is this far less fuss but it will also save you money as you won't have to pay monthly line rental on top of your bill.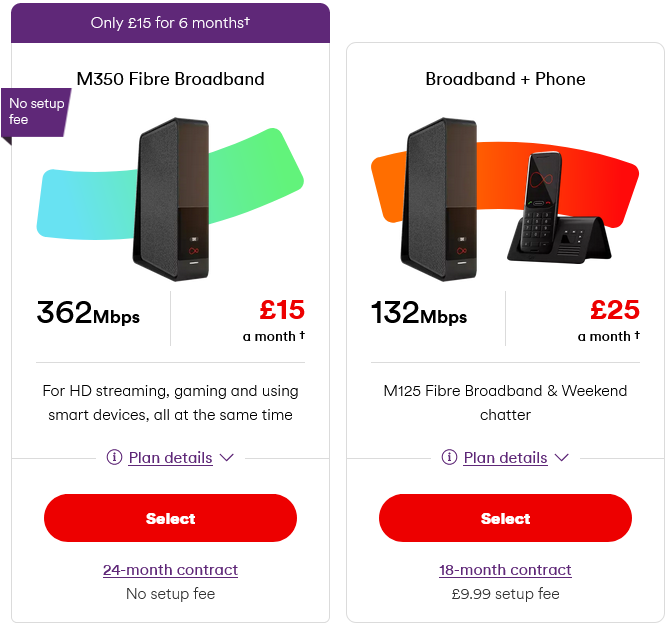 Can I get Virgin Media broadband where I am?
Virgin Media's fibre optic broadband is available in most of the UK. However, there are some locations that the Virgin Media network doesn't reach.
The best way to find out if you're covered is to visit the Virgin Media website and use their postcode checker to see if you're eligible for one of the Virgin Media broadband deals on this page.
Is it easy to set up Virgin Media broadband?
If you've never had Virgin Media broadband before then you will probably have to pay an activation fee which is around £15. A Virgin Media call out charge is typically £99, so if you need an engineer visit to your home then expect to have to pay this cost as well.
Not everyone has to pay the charge to activate their Virgin Media broadband connection, it is decided on a case-by-case basis. Don't worry, if you choose a deal with Virgin Media then they will let you know about any fees that are payable before you sign the dotted line.
If you've been a Virgin Media customer in the past in your current home, then you will be able to set up your own services yourself with their QuickStart self-install box
✅ What are the best bits about Virgin Media broadband?
Virgin Media broadband comes highly recommended by us here at Broadband.Deals.
Here are some of the main great reasons to choose Virgin Media as your next broadband provider:
Very flexible packages that can be modified frequently
Supports business broadband too
Option to bundle in your TV, phone and mobile to save money
Their broadband packages don't require line rental
A very good TV package, rivalling the one offered by Sky
Very good speeds and a fairly reliable service
So, if you're in the market for broadband that is fast, reliable and will give you the option to save money on a brilliant TV package, then you can't go far wrong with Virgin Media.
Being a massive provider, they are a safe pair of hands, but they also come highly recommended as being one of the best providers of home broadband that also offer excellent value for money - though they have announced that broadband prices are rising again.