Reasons to choose a BT broadband tariff
If you're looking for a fast, reliable and affordable broadband package, there are several options to choose from at BT. Whether you're on the market for a business package, or just want to save some money on your current internet service, BT has a variety of options that will be right for you.
But are BT any good? Or are there better broadband providers out there?
If you just want to compare BT Broadband deals and plans, then read this article.
BT TV Review - Is it worth getting too?
BT offers a great set of extras and services - not just broadband. It's not for everyone though, so you might be wondering whether it's worth spending your money on getting the extra BT Sport or BT TV package.
BT offer a range of high-quality broadband and home phone services. There are also several TV packages to choose from. This includes basic Netflix, Sky Atlantic, NOW Cinema Membership, and Sky Showcase.
The BT TV Box Pro is a great choice for those who want a hassle-free installation. It's built on the YouView platform, and it features a number of built-in apps. As well as streaming major catch-up services, it offers support for Dolby Atmos and HDR.
One of the best features of BT TV is the universal search tool. Using the button on the remote, you can find and filter content by genre, upcoming broadcast shows, or integrated services. When you've found something you like, you can save it to your MyTV page.
What about the BT Hub? Is it good?
BT's new Hub 5 has a detachable back panel and strong dual-band wifi. But it could do with more Ethernet ports.
BT has also improved its TV service, offering a simpler electronic programme guide. Plus, BT Sports is included in the box, which is a big draw for many customers.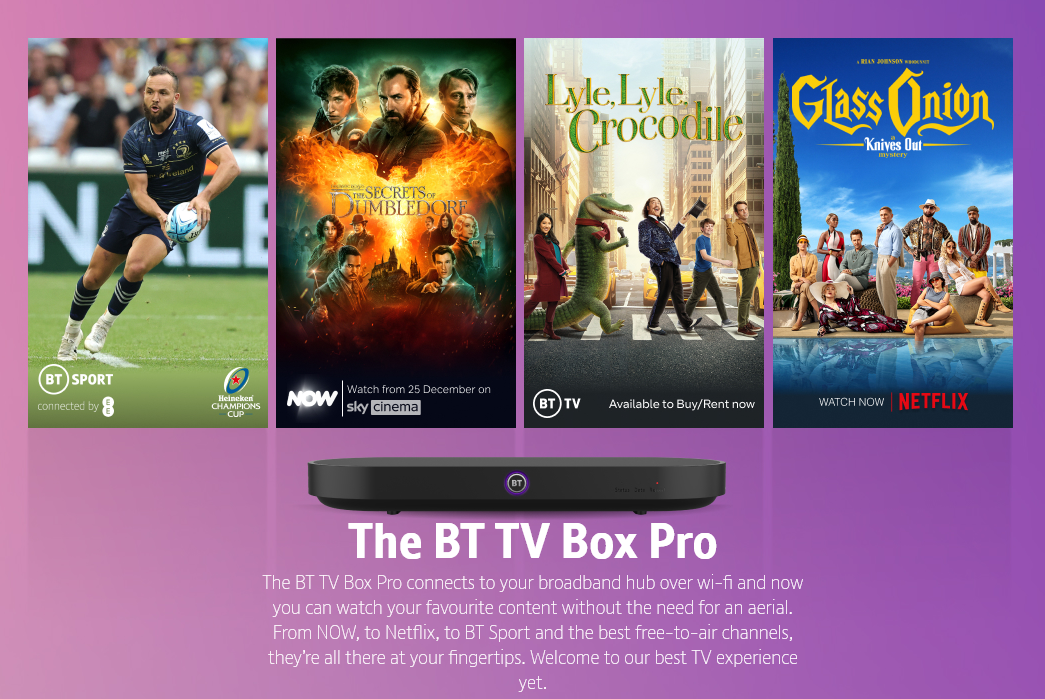 BT Complete Wi-Fi
Complete Wi-Fi is an option for BT Broadband customers, with speeds of at least 10Mbps available in every room of the home. Unlike cheaper wi-fi range extenders, the Complete Wi-Fi system uses mesh networking technology to give users a stronger and more consistent wireless signal.
The Complete Wi-Fi service is backed by BT's complete Wi-Fi guarantee. This guarantee means that if your Wi-Fi does not cover all of your home, you can get a refund of the monthly fee for that month. However, it does not include garden or shed coverage.
The BT Smart Hub 2 is the router that accompanies Complete Wi-Fi. It is a newer, more powerful model than the previous one, and offers significant improvements. Using the My BT app, you can easily set up the Wi-Fi network in your home, ensuring you have the strongest signal. You can also block sites, manage your screen time, and control your security preferences.
Unlike the previous models, the Smart Hub 2 comes with built-in support for mesh networking. Mesh Wi-Fi hubs allow you to spread your wi-fi coverage around your house without drilling walls.
To set up the Smart Hub 2 and Wi-Fi discs, download the My BT app to your phone. The app guides you through the process, placing the discs where they will be most effective. Once you've set up the router, you can browse the internet from any room in your home.
BT Business Broadband
BT Business Broadband is a great choice for businesses looking for a reliable broadband service. It has a wide range of options and offers nationwide coverage.
Among the most notable is BT's Always Connected Guarantee. This promise allows users to connect to the internet at anytime, even if the internet is not available at the moment. The company claims that their system is the most reliable.
BT Business also offers mobile plans and cloud based services. You can also purchase networking hardware.
BT's Wi-Fi app lets users access over five million Wi-Fi hotspots. If you travel a lot, this is a great advantage.
However, while BT is not the most expensive business broadband option, it is not the cheapest. There are a few other providers that offer similar features. Plusnet is one, and Virgin Media is the other.
Customer Service at BT: Review
No review of an ISP would be complete, without us looking at their customer service record.
Although BT does have an impressive set of features, their customer support and reliability are disappointing. Their customer service is not great, and their phone response times are very slow.
Despite these shortcomings, there is still a lot to like about BT Business. They boast a digital line, and they are offering a special first year discount for their Essential and Pro packages.
BT also provides a community forum and live chat. Both are available to customers during business hours. However, you can also try the customer service phone number, which is open on weekdays from 8am to 9pm and on weekends from 8am to 8pm. Although there are no guarantees, you are likely to find a friendly rep if you call the right number.
BT's social broadband tariffs
BT is one of the largest providers of social broadband tariffs in the UK. The company's "Home Essentials" plan is designed for low-income households.
If you qualify, you can save up to 70% on your broadband bill. However, the deal may not suit everyone. You should take a look at the deals available from your current provider before making a decision.
Most superfast broadband packages offer speeds of more than 30 Mbit/s, so you can enjoy online shopping, HD films, and other high-definition services. These can be a bit expensive, however. Some providers will charge you a security deposit when signing up to their services.
There are a number of other internet service providers that also offer social tariffs. Among them are BT, Virgin Media, and Sky. Many of them will only accept customers who are on certain benefits, such as universal credit.
How do I prove eligibility?
You'll need to get a proof of eligibility first, to get the social tariff plan - this can be a benefit statement or a National Insurance number.
Ofcom has urged providers to improve their understanding of the benefits of social tariffs. It's also called for more ISPs to offer them.
For many households, a reliable broadband connection is essential. This allows you to communicate with loved ones, shop online, and work. Getting the best deal can help to make your life easier.
In August, 136,000 households were taking part in social tariffs. This number could increase to 4.6 million when the new deal is introduced.
BT's Speed Guarantee - How Fast?
If you're not satisfied with your broadband, BT's Stay Fast Guarantee could be the solution for you. This guarantee promises to give you a cashback reward if your internet speeds drop below your baseline. The company claims to offer the most reliable service yet, which is backed up by a range of online security features.
With a BT broadband package, you can enjoy the best content and a fast connection. Plus, you can take advantage of a range of additional extras, such as parental controls, BT Virus Protect, and more.
BT also offers access to a 24-hour phone hotline. And if you don't know how to fix your problem, they'll send an engineer round to try and help.
However, there's also a downside: BT's Stay Fast Guarantee comes with a price. For an added monthly fee, you can upgrade to a fibre broadband deal that includes it.
Can I get a cheaper plan?
Yes. You can opt for a cheaper deal, but that doesn't always come with a Stay Fast Guarantee. In fact, many of the broadband deals offered by other providers don't include this.
Fortunately, you can take advantage of a BT Stay Fast Guarantee if you're already a customer. This means you'll receive priority telephone support from call centres throughout the UK, a personal line check, and a guaranteed minimum speed.
Is BT Broadband still fast?
BT is still consistently speedy, after all they own the network.
Note that BT and Sky are two of the most popular providers in the UK. Both offer fast fibre packages, plus comprehensive call packages and some of the best TV in the country.
If your connection doesn't meet their Speed Guarantee, BT will provide you with a £20 refund. Your compensation will be issued in the form of a pre-paid BT Reward Card, which you can use to spend as you please.
For more on BT's speeds, the best idea is to compare BT speeds and plans using your postcode. This will show you accurate BT Broadband speeds to your door.
What is the best Broadband deal for BT?
Currently the best BT Broadband Plan costs £22.99 giving you unlimited data, subject to fair-use clauses.. With BT you can also cancel within 30 days for their rolling broadband contracts.
Can I get unlimited downloads with BT?
Yes, unlimited data on BT is really popular so make sure you get enough bandwidth to cover your needs.
How much can I save with BT 12 month Broadband?
Of course, it depends on what plan you were on before. But with a BT Broadband plan or contract over 12 months, you can of course cancel any time and switch. You are not tied in with BT a lot of other deals.