Ratings & Scores for BT
Our rating
Trustpilot rating
BT deals are great value, but you would expect that as one of the largest home broadband providers in the UK (and they also offer competitive business broadband plans too).
In addition to a wide range of fast broadband deals to suit almost anyone, there is also the choice to add flexible home phone, mobile and TV plans to your bundle.
Rivals to BT include Virgin Media broadband and Vodafone; though the latter uses the same network at BT. In fact, this isn't surprising, as a lot of other broadband companies use the BT/Openreach network, too.
But does this make any difference? Absolutely. Even though some of the other providers are using the same network, it doesn't necessarily mean they will always be more expensive than BT. It's true that BT can set their own prices to use the network, but it's tightly regulated, and as a result it still pays to shop around for the best broadband and fibre deals.
What packages do BT Broadband offer?
We'll start with the basics.
BT Broadband is one of the few providers that will offer you standard (ADSL) broadband as well as a fibre optic connection depending on what you need.
If you're looking for the fastest possible speeds, then it's worth checking whether BT full fibre broadband is available in your area. It's being installed at a few places nationwide at the moment, so it'll only be a matter of time before you will eventually be able to get it - but sadly, the majority of UK households at the time of writing cannot.
The ADSL broadband offered by BT will get you speeds of up to 10Mbps, which is pretty slow these days and only really suited to those who only need very light use such for occasionally browsing the internet or sending emails.
✔️ What are the Pros (positives) of BT Broadband?
Where BT really shines is when it comes to their fibre optic broadband packages.
There are two main packages, and a variety of different speeds to choose for each. If you want standard fibre broadband that's ample for average use, then their Fibre Essential package will allow you speeds of up to 36Mbps. If that's not quite enough, then Fibre 1 will get you 50Mbps and Fibre 2 will get you up to 67Mbps.
For those who want something a little faster than that, then you will want their ultrafast fibre packages which are called Full Fibre. These are the packages that may not be available in your area just yet as such fibre optic broadband is still being rolled out across the country as we speak.
There are four "Full Fibre" packages:
Full Fibre 100,
Full Fibre 300,
Full Fibre 500 and
the top speeds are from the Full Fibre 900 plan.
These plans will give you speeds of up to 100Mbps, 300Mbps, 500Mbps and 900Mbps respectively - hence the name. The latter plans are best suited for larger households with older children who tend to stream and game on multiple devices simultaneously.
Any of the fibre packages are suitable for activities like working from home, streaming high quality video on services such as Netflix, Disney+ or Amazon Prime Video.
All fibre broadband packages from BT come with a free BT Smart Hub which is well up for the job, as well as a host of online security features.
And with BT, all packages also come with truly unlimited usage, so you can download and stream as much as you like without worrying about the possibility of additional charges.
Best Fibre Deals currently with BT:
| Package Name | Price (month) | Min. Speed |
| --- | --- | --- |
| 🔥 Best value Full Fibre Essential | £28.99 | 36Mbps |
| 🔥 Mid-range Full Fibre 1 | £29.99 | 50Mbps |
| 🔥 Fastest Full Fibre 2 | £33.99 | 74Mbps |
Generally, if you can get fibre in your area, then the consensus is that it's worth doing so. However, a lot of areas in the UK still do not have access to fibre speeds yet.
What is BT "Complete Wi-Fi"?
BT Complete Wi-Fi aims to make dead Wi-Fi zones within your home a thing of the past. With the BT Complete Wi-Fi service, you'll get a Smart Hub 2 and a Wi-Fi booster disc for an additional £10 per month.
This will amplify your Wi-Fi signal around the home so that you can get a connection wherever you are. And if that doesn't work then BT will send you additional discs free of charge. If your speed still doesn't improve after all that then they promise to give you £100 cashback.
Does BT broadband offer call packages?
You don't have to have a landline for the majority of BT's broadband deals, but if you like to use your home phone then they offer a load of bundles to make things a bit cheaper for you. There are 3 UK-based call plans, which are:
Pay As You Go – where you only pay for the calls you make
700 Minutes -where you get 700 minutes to use on UK landlines and mobiles, anytime
Unlimited Minutes, which is unlimited calls to UK landlines and mobiles at any time
If you prefer to call abroad, then BT broadband also have a couple of call packages that will make that cheaper too:
Friends and Family International – which offers discounted rates to over 230 worldwide destinations
International Freedom – offering 600 minutes to select destinations, as well as discounted rates to the rest of the world.
All the call plans offered by BT work on a 1-month rolling contract, which means you have the flexibility to change your phone plan every month if you choose to.
Do I need a landline to have broadband with BT?
BT are one of those providers where you can get a broadband-only plan, which do not require you to have a landline. This means that you don't have to pay monthly line rental charges.Generally speaking, most fibre plans in the UK do not require a landline, as this isn't how fibre optic works.
But you can, of course, still get BT's great call features if you want to, even if you get a fibre deal. If you don't want or have any need for a home phone landline, then this may be of benefit to you.
Some of BT's broadband packages do require you to have a landline though, so it might not be possible to completely do away with the landline. Whether or not you choose to make calls from your landline is always up to you though.
Do BT broadband offer TV packages?
Yes, they do! BT broadband currently offer five different TV packages. These are:
Sport
Big Sport
Entertainment
Big Entertainment
VIP
What about Ultrafast speeds?
If you're lucky enough to live near an exchange that has FTTC-enabled Ultrafast then you're in for a treat. You can get almost 1Gbps download speeds with BT for just £53.99 a month. Here's our pick of the top Ultrafast plans from BT:
Best BT Broadband & Fibre Plan Features
🔥 Full Fibre 100 at 150Mbps
£33.99
🔥 Full Fibre 500 at 500Mbps
£43.99
🔥 Full Fibre 900 at 900Mbps
£53.99
🔥 Min. Contract
24 Months
All of these TV packages are on a 24-month contract, but they are flexible in that you can switch your package every 30 days if you want to.
You can also add or remove monthly subscriptions like NOW TV and Sky Sports whenever you like.
If you really like your TV then the BT YouView TV box comes with 600 hours' worth of TV storage and lets you pause, rewind and record live TV like Sky.
If you're a Sky TV an, and aren't quite ready to switch to BT yet, then consider comparing all our best Sky Broadband deals too.
BT aren't short of choice, mind. In fact their offering includes more than 70 Freeview channels, as well as access to applications like BBC iPlayer, Netflix and NOW TV.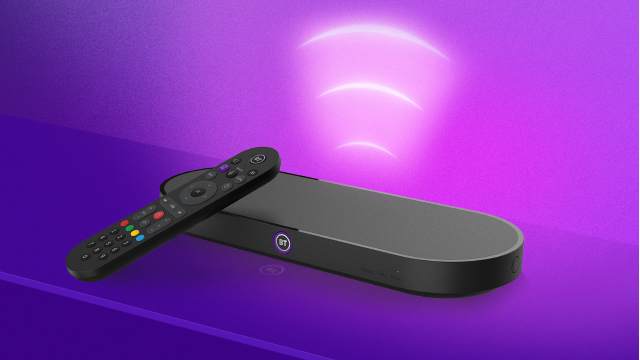 Can I get BT broadband deals in my area?
BT are a massive company, so the chances are you'll be able to get at least one of their broadband packages where you are. Most people will be able to get the standard ADSL broadband, but fibre is still being rolled out in many locations.
The best way to find out whether you can get BT broadband where you live is to use the postcode checker on their websit, or enter your postcode here to compare all UK broadband packages.
Is it hard to set up BT Broadband?
It depends on your packages, but for most BT broadband packages you should be able to set it up yourself pretty painlessly. It's usually just a case of finding your main broadband socket and plugging your modem and BT hub to it.
If you have recently had a telephone service from BT then they say that they won't charge an installation fee, as long as your wiring and socket is undamaged, and you can still hear a dial tone.
However, a connection fee of around £140 may apply if you don't have any of the above. This covers the cost of connecting your home up to the exchange.
When you sign up to BT broadband it typically only takes a few days to get going, unless you are switching from another supplier in which case it can take up to two weeks. If an engineer is required, it will usually take them 2-3 hours to install your broadband.
What are the best bits about BT broadband?
BT are one of the biggest broadband providers out there, and there's a reason for that. They offer loads of benefits, including:
A wide range of availability across the UK
A good selection of packages to suit most households
Affordable call plans and TV bundles (if needed)
Free access to millions of BT public Wi-Fi hotspots
Free BT Cloud storage with any package, ranging from 10GB to 1000GB
In a nutshell, if you want an adequate broadband deal from a reputable company that is know for their good customer service, then you can't go far wrong with BT Broadband.
There are cheaper companies out there, no doubt. As well as providers that will offer much higher speeds so it's well worth considering whether you'd benefit from even faster broadband or not. For the majority of people though, BT broadband is a safe pair of hands.