Ratings & Scores for Sky Connect
Our rating
Trustpilot rating
Sky Connect is a business broadband solution provided by Sky, one of the UK's leading telecommunications providers. It offers fast and reliable internet connectivity to businesses of all sizes, with speeds ranging from 17 Mbps to 76 Mbps. Sky Connect is designed to meet the demands of businesses that require a high-speed, stable and secure internet connection.
It's possible you've not even heard of Sky Connect before, but if you're looking at comparing Business Broadband and fibre then Sky Connect are one of the many broadband providers in this niche.
What are the benefits of Sky Connect broadband?
Sky Connect offers several advantages to businesses. Firstly, it provides fast and reliable internet speeds, allowing businesses to carry out day-to-day tasks and communicate with clients and customers more efficiently. This is especially important for businesses that require a fast internet connection to support online applications, cloud services, and VoIP telephone systems.
Secondly, Sky Connect is designed to be secure and reliable. With 24/7 technical support and advanced security features, businesses can be confident that their internet connection and online activities are protected. This gives businesses peace of mind, knowing that their confidential data and online operations are secure.
Are they better than BT Business broadband?
If you're already a customer with BT Business broadband then you'll know that it can be expensive. In fact, Sky Connect advertises that it is up to £750 a year cheaper than BT, despite using the same network (ultimately, Openreach own the network).
Check here for the latest deals and offers from Sky Connect.
To get started, you'll first need to type in your postcode to see what tariffs and broadband plans are available to your business premises. Note that domestic customers cannot buy Sky Connect, so if that's you, then compare all our regular Sky broadband deals here.
How much do Sky Connect plans cost?
In terms of cost, Sky Connect is competitively priced and offers flexible packages to suit the needs of different businesses. Businesses can choose between a standard package or a custom package, which can be tailored to meet their specific requirements.
Standard packages start from £27 per month, while custom packages are priced based on the specific requirements of each business.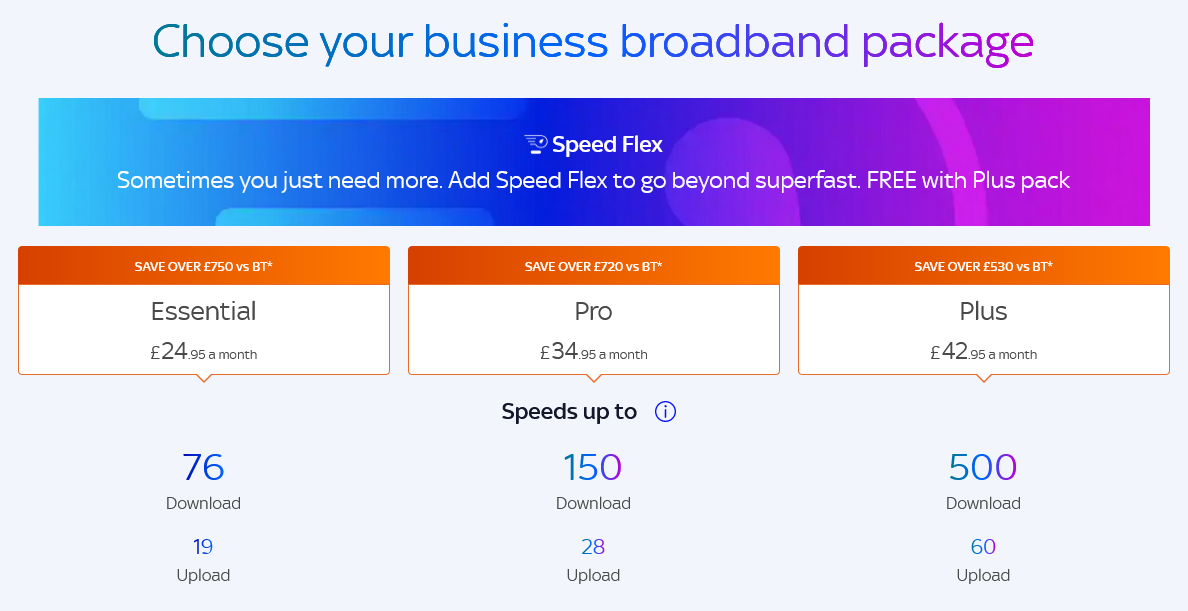 As you can see, their plans are now offering both Ultrafast and Superfast packages.
In terms of which plan is right for you, it really depends what your use-case is, and how many of your employees and colleagues use the internet connection at any one time.
If you're a small one or two person business then you may be suited to the cheaper plans. The best thing to do is run a speed test and see what speeds you're getting now for your business, and go from there.
Summary: Sky Connect for business plans
Sky Connect is a fast, reliable and secure business broadband solution that offers competitive pricing to businesses of all sizes. With fast speeds and flexible packages, businesses can choose the right solution to meet their needs and budget. Whether you're a small start-up or a large corporation, Sky Connect provides an excellent internet solution for businesses looking for a fast and reliable internet connection.