Ratings & Scores for TalkTalk Business
Our rating
Trustpilot rating
If you're not a business customer then you can still get cheap broadband or fibre from TalkTalk directly. TalkTalk Business is only available to business customers currently.
TalkTalk Business is a leading broadband provider in the UK that offers high-speed internet deals to businesses of all sizes. The company provides a range of broadband packages that cater to different business needs, from small start-ups to large corporations.
With its reliable network and competitive pricing, TalkTalk Business is a popular choice for businesses looking for a fast and affordable internet solution.
Fast is good. Ultrafast is better. In a world where network infrastructure is the infrastructure, ultrafast is ultra-important. TalkTalk Business claims an average download speed up to 900Mb/s, though of course this requires you to be in a suitable area.
How much does TalkTalk Business cost?
TalkTalk are famed for being cheaper than most providers, and that story is repeated here for their Business side of things.
In terms of pricing, TalkTalk Business offers competitive packages that are designed to meet the needs and budget of different businesses.
Standard broadband packages start from £18 per month.
Superfast broadband packages are priced from £28 per month.
Businesses can also choose between different contract lengths, with options ranging from 12 to 36 months.
In addition to broadband packages, TalkTalk Business also offers a range of add-ons, including static IP addresses, router upgrades and Wi-Fi boosters. These add-ons allow businesses to customise their internet solutions to meet their specific requirements.
Do TalkTalk Business do Leased Lines?
TalkTalk Business also offer leased line deals for your business. If you're not sure on the benefits of leased lines, then we're here to help. In short, a leased line will give you 1:1 access as they are essentially a 'dedicated' line between your business and the exchange.
Other non-leased line connections are, of course, shared between you and other local businesses and customers.
In conclusion, TalkTalk Business provides a range of broadband packages that cater to the needs of different businesses. With fast speeds, flexible plans and competitive pricing, the company is a popular choice for businesses looking for a reliable and affordable internet solution.
Whether you're a small start-up or a large corporation, TalkTalk Business provides a flexible and customizable broadband solution that can meet your specific needs and budget.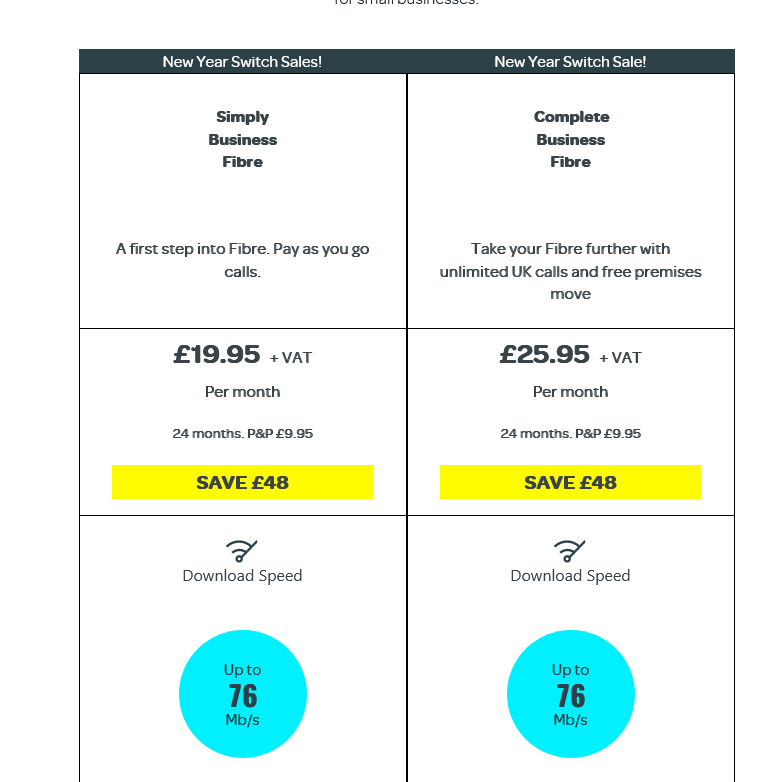 TalkTalk Business also offer fibre-based broadband (FTTC) to many businesses. The only requirement is to check that you're in the area that can get fibre. If you aren't then the best speed you can get will be superfast.
Compare all our fibre broadband plans and deals here, by entering your postcode.
If however you're unsure if regular broadband or fibre is right for you, the best thing to do is run a quick price comparison on fibre in the UK. You'll need to give us your postcode and then we can check to see what deals and plans you can get to your door.
If you have any queries about TalkTalk Business then you can contact them on 0808 258 0428