Reasons to choose a Zen broadband tariff
One of the key features of Zen broadband deals are that they're really good value. In a world of confusing ISPs, where most of them seem to offer the same thing, Zen certainly stands out - not as some huge faceless company, but as a small business that cares about customer service.
What kind of speeds can I get with Zen Broadband?
When it comes to speeds, the speed of the Zen broadband internet service is rated excellent on websites like Trustpilot.
Zen Broadband offer a range of packages with download speeds of up to 80Mbps and upload speeds of up to 20Mbps. This makes them ideal for customers who use the internet for activities such as streaming, gaming, and online work.
Zen Broadband also offer higher-speed or so-called Ultrafast packages that reach up to 1Gbps, which are perfect for businesses that require high-bandwidth applications, such as video conferencing, online storage, and cloud-based software.
Zen Broadband: Reasons to switch provider
Zen Broadband is a well-established internet service provider in the UK that provides broadband and fibre packages to homes and businesses across the country. With over 20 years of experience, Zen Broadband is committed to providing reliable and high-speed internet services to its customers.
The company offers a variety of broadband and fibre packages to suit the different needs and requirements of its customers. Some of their best broadband and fibre packages from Zen in the UK are listed below:
Broadband (ADSL): Zen Broadband offers standard broadband services with speeds of up to 17 Mbps. This package is ideal for basic internet activities such as browsing, emailing, and video streaming.
Fibre Broadband: For customers who require faster internet speeds, Zen Broadband offers fibre broadband with speeds of up to 67 Mbps. This package is suitable for homes with multiple devices and users who engage in online gaming, video conferencing, and large file downloads.
Fibre Pro: For businesses, Zen Broadband offers Fibre Pro, a premium fibre package that offers speeds of up to 145 Mbps. This package is suitable for companies that require fast and reliable internet services for their day-to-day operations.
Fibre Max: For customers who demand the fastest and most reliable internet services, Zen Broadband offers Fibre Max, a fibre package that offers speeds of up to 900 Mbps. This package is suitable for businesses that require ultra-fast internet for their operations, as well as for customers who engage in intensive online activities such as 4K streaming, online gaming, and large file transfers.
Zen Broadband provides a range of flexible packages, with no hidden costs or long-term contracts.
They also offer no 'required' phone line if you opt for a fibre package, so you can cut costs there by not paying line rental.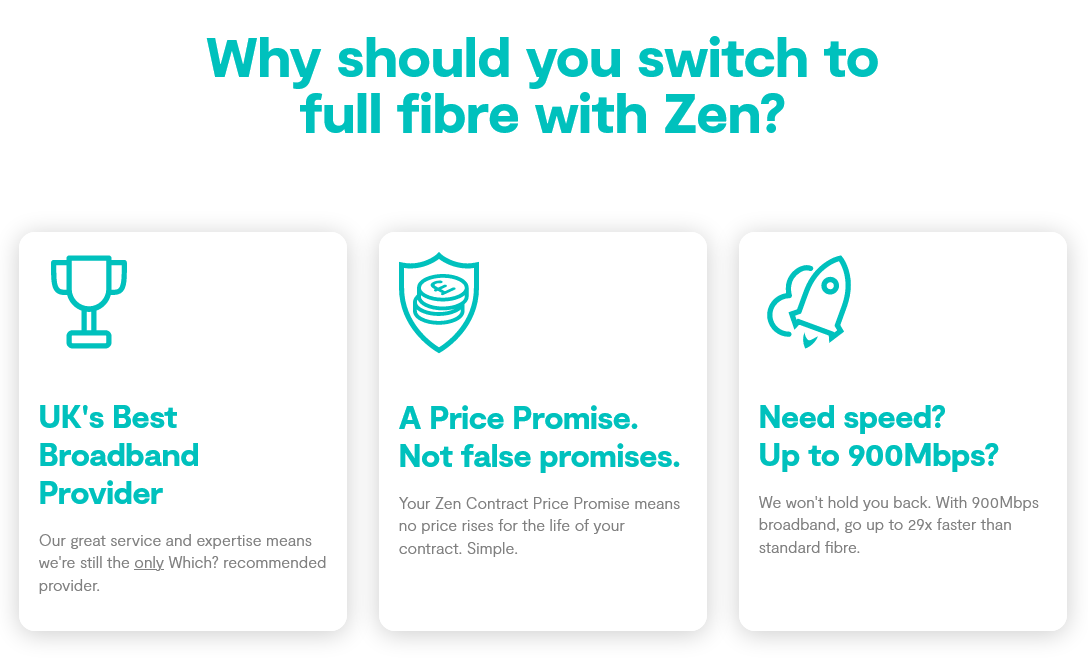 What about Zen Broadband customer support?
The company also offers excellent customer support services, with knowledgeable technicians available to help customers with any questions or issues they may have.
In conclusion, Zen Broadband is a reliable and trusted internet service provider in the UK that provides high-speed broadband and fibre packages to meet the diverse needs of its customers. Whether you are a home user or a business looking for broadband, Zen Broadband will probably have a package that is suitable for your needs.
Are Zen broadband deals cheap?
If you are focused on price alone, then TalkTalk broadband plans will generally work out cheaper than Zen, but be aware that their customer service is lacking.
Zen's customer service is UK-based and has won several awards. If you're the kind of person who prefers to call up a customer service rep, then switching your supplier to Zen might be for you.
What is the best Broadband deal for Zen?
Currently the best Zen Broadband Plan costs £22.99 giving you unlimited data, subject to fair-use clauses.. With Zen you can also cancel within 30 days for their rolling broadband contracts.
Can I get unlimited downloads with Zen?
Yes, unlimited data on Zen is really popular so make sure you get enough bandwidth to cover your needs.
How much can I save with Zen 12 month Broadband?
Of course, it depends on what plan you were on before. But with a Zen Broadband plan or contract over 12 months, you can of course cancel any time and switch. You are not tied in with Zen a lot of other deals.