Ratings & Scores for Zen
Our rating
Trustpilot rating
For a cheap broadband deal for your small business, then consider Zen Internet.
Zen Internet is a UK-based internet service provider that offers a wide range of broadband plans for businesses. They go all the way back to 1995 so know a thing or two about broadband.
Their mission is to provide "fast and reliable" internet broadband tariffs to businesses of all sizes, while also delivering excellent customer service.
Top 6 reasons to try Zen broadband
Here is our detailed look at the top 6 reasons to consider a switch to Zen Internet and what Zen has to offer to businesses. We're also going to look at the benefits of signing up to their broadband packages - make sure to compare all current deals for Zen above.
1. Fast and Reliable Broadband
Zen Internet provides fast and reliable broadband services to businesses of all sizes, with speeds ranging from 10 Mbps to 1 Gbps. Their advanced network infrastructure ensures that businesses can take advantage of fast and stable internet connectivity, which is essential for many business activities, such as cloud computing, video conferencing, and online transactions.
Read our review of Zen Internet's coverage and speeds here.
2. Dedicated to Business Broadband
Zen Internet offers dedicated business broadband packages that are specifically designed for businesses. These packages come with guaranteed service levels, 24/7 support, and a range of add-on services to help businesses get the most out of their internet connection.
Reliable Network: Zen Internet has built a highly reliable network that is designed to provide businesses with fast and stable internet connectivity. Their network is monitored 24/7, and they have a strong track record of delivering high-quality services to their customers.
3. Zen Broadband has Flexible Contracts
Zen Internet understands that businesses have different requirements, which is why they offer flexible contract options. Businesses can choose from 12, 24, or 36-month contracts, or even a rolling monthly contract, to suit their needs.
4. Cost: Cheaper than you might expect?
Zen Internet offers competitive pricing for their broadband services, making it an affordable option for businesses. They also offer cost-saving bundle deals, which allow businesses to get the most value for their money by combining broadband, telephone, and other services.
5. Great support, in the UK
Zen Internet has a dedicated team of experts who provide round-the-clock support to businesses. They are available to help businesses with any issues or questions, ensuring that businesses can focus on their core activities without interruption.
6. Security and Data Protection
Zen Internet takes security and data protection seriously, which is why they offer a range of security services to businesses. These services help businesses protect their sensitive data and keep their internet connection secure.
Zen Internet is a great choice for businesses that need fast, reliable, and cost-effective broadband services. With flexible contract options, expert support, and a reliable network, businesses can focus on their core activities without worrying about their internet connection.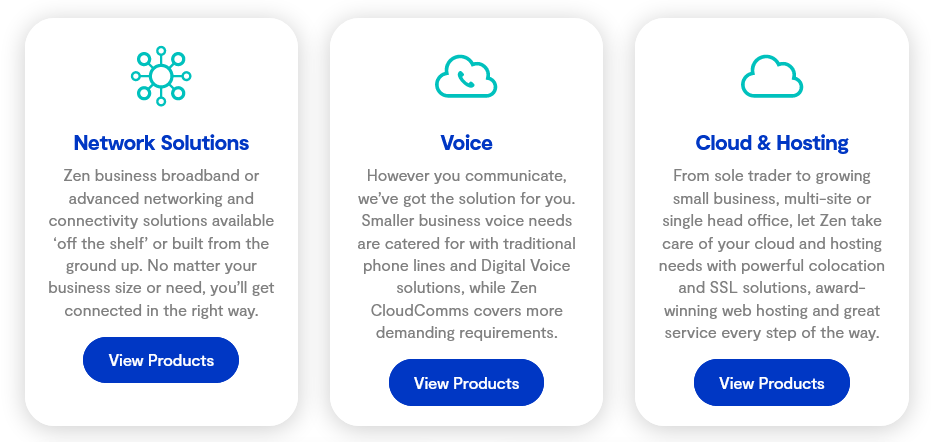 Whether you are a small business or a larger corporation, Zen Internet claims to have a broadband package to meet your needs.
Which is the best plan from Zen broadband?
Zen Internet offers a range of broadband plans to its customers, with different speeds: ranging from 10 Mbps to 1 Gbps. The exact speed you can get with Zen Internet broadband depends on several factors, including your location, the type of broadband package you choose, and the quality of your telephone line.
Zen Internet provides a range of broadband services including Fibre-to-the-Cabinet (FTTC) and Fibre-to-the-Premises (FTTP) broadband, which can deliver speeds of up to 76 Mbps and 1 Gbps respectively. For businesses that require even faster speeds, Zen Internet also offers leased line services, which has a number of benefits and provide dedicated, high-speed connectivity.
What average download speeds do I get with Zen?
It's important to note that the actual broadband speeds you receive may be slower than the advertised speeds, depending on various factors such as the quality of your telephone line, the number of users on your network, and the type of online activities you are performing.
If you're looking for a decent business broadband provider then don't forget to compare deals with Virgin Media.
Overall, Zen Internet provides a range of broadband speeds to suit the needs of different customers, from home users to businesses. If you are unsure about which broadband package is right for you, their customer support team can help you choose the best option based on your needs and budget.