Ratings & Scores for Hyperoptic
Our rating
Trustpilot rating
Hyperoptic offer some of the fastest broadband deals in the UK, for a monthly price that won't break the bank. If you want top speeds, then Hyperoptic - who run on fibre optic, hence the name - can offer you speeds anywhere up to 900Mbps.
Like all of the fastest fibre broadband providers, Hyperoptic are an FTTP (fibre to the premises) provider. This means that your connection speed won't be influenced by how far away your home is from a telephone exchange. It's the way forward when it comes to lightning-fast internet connections, and it may already be available in your area.
You can read our full Hyperoptic coverage and downtime review here.
What ADSL packages do Hyperoptic offer?
When it comes to Hyperoptic broadband or ADSL, they are all about speed. So whichever one of the four packages you choose below, you won't be disappointed with your downloads or uploads any more:
| | | |
| --- | --- | --- |
| Package | Average speed | Suitable for… |
| Fast | 50Mbps | Anyone who wants simple, fast and reliable broadband for streaming and online gaming |
| Superfast | 150Mbps | Larger households that are into streaming HD movies, gaming, video calling and other demanding activities |
| Ultrafast | 500Mbps | Big households with older children or where multiple occupants are often undertaking a range of demanding activities |
| Hyperfast | 900Mbps | Ideal for larger households who like to play games, download or watch TV online simultaneously without any lag or buffering |
Regardless of the package that you choose, you will benefit form unlimited downloads, free installation and a free HyperHub router. All you have to pay is a one-off activation fee of £29.
If you like things flexible, Hyperoptic offer a 1-month rolling contract too. But even their longer contract is a lot more flexible than many other providers, being 12 months instead of the usual 18 or 24. The 12-month contract is slightly cheaper than the 1-month rolling contract.
And being one of the best fibre broadband providers, Hyperoptic do not ask you to have a landline fitted or activated in your home in order for you to use their connection.
So, if you do not care for making calls from a home phone then this may suit you: as you'll no longer have to pay for line rental.
Can I get Hyperoptic broadband in my area?
At the moment Hyperoptic broadband is only available in certain locations, although they are always expanding their reach. On their website they have a postcode checker which will allow you to see whether you can get Hyperoptic broadband in your area.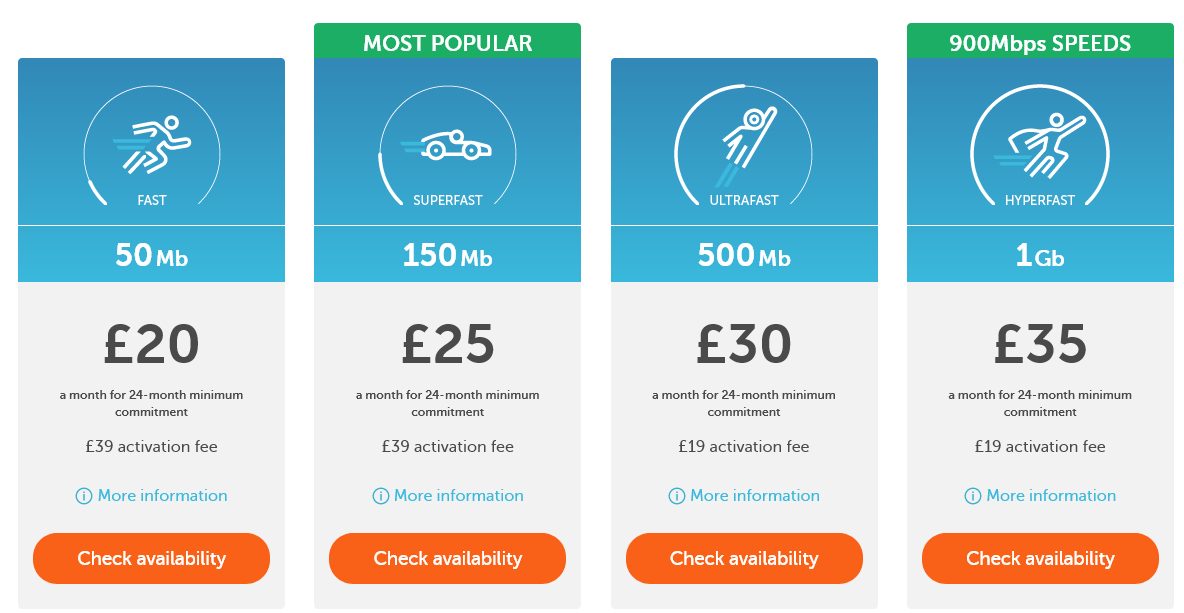 If you're not fortunate enough to be able to get Hyperoptic broadband yet where you live, then you can register your interest online and they'll notify you.
If enough people within your area do the same, then Hyperoptic will come and connect your area to their ever-expanding network. This is similar to how it works for other smaller providers such as Trooli.
Is Hyperoptic broadband difficult to set up?
Since Hyperoptic broadband is a FTTP provider, an engineer will need to visit your home in order to install your new broadband. Installation typically takes between 1 hour and 90 minutes.
You can book it when it suits you, on any day between Monday and Saturday. Remember, standard installation and setup is completely free as well - all you need to pay is a one-off £29 activation fee.
What are the best bits about Hyperoptic broadband deals?
There are several reasons to choose Hyperoptic as your next broadband provider, here are the main ones:
Hyperoptic offers some of the fastest available speeds in the UK
You can still get internet without the added cost of a landline
Unlimited downloads are included as standard
You can choose between a 1-month rolling or 12-month contract
24/7 customer support
Reliable connection with no lagging
Price match promise – so you know you're getting the best value
No mid contract price hikes – what you see is what you pay
As you can see if you want fast broadband without all the added fuss and costs, then Hyperoptic fibre broadband is a no brainer. You don't need a phone line to be able to benefit from superfast internet, and setup is completely free apart from a one-off £29 activation fee.
Is Hyperoptic any good?
Hyperoptic is generally considered a good broadband provider, offering fast and reliable internet services with high customer satisfaction.
You can read their Trustpilot listing here, where they are rated 4.5 out of 5. For comparison, this is one of the highest rated broadband companies around, the only one that ranks higher is Cuckoo broadband at 4.7. You can compare all Cuckoo broadband offers here.
However, like all broadband providers, the quality of service may vary based on factors such as your location, the package you choose, and network congestion. It is recommended to research and compare different options before making a decision and to also read customer reviews and ratings to get a better understanding of their services and performance.
What contract lengths can I get?
You can choose between a flexible 1-month rolling contract or a short 12-month annual contract.
If you're looking for a longer term contract then make sure to compare ALL broadband plans for 18-month or more.
You know your bill isn't going to rise halfway through no contract as Hyperoptic promise no mid-contract price rises. The only other provider in the UK we have seen offer this is Truespeed broadband. And, what's more, you know you're getting the best possible deal due to their price match promise. If you find a cheaper deal anywhere else, then they will match it.
Lastly, Hyperoptic also promise never to raise prices while you're in contract. This is a big deal, with plenty of other companies raising broadband prices all the time. They call this their "Hyperfair promise".
Do Hyperoptic do credit checks...?
Sadly, Hyperoptic told us that they do undertake credit checks for new customers. If that concerns you, then check out our no-credit-check broadband plans comparison here.