Ratings & Scores for Three
Our rating
Trustpilot rating
Three might not be one of the first names you think of, when you imagine "broadband deals".
But they are one of the UK's Big Four mobile network providers, with almost 1 in 10 people in the UK using them.
Three are new to the world of home broadband, but have been running a successful mobile network here for decades. As a result, Three offer home broadband that's a little different to most of the other providers out there - they specialise in what's called MiFi or mobile broadband.
With so much experience with 4G and 5G, we expect them to become a major player in the home broadband arena within the next few years. Are Three worth joining now? Let's take a look.
Is Three Mobile Broadband any good? - Reviews
When it comes to reviews of Three Mobile Broadband, the overall consensus is positive. Many customers report good network coverage and fast internet speeds, making the service ideal for both work and personal use.
Some customers also appreciate the flexible plans that Three Mobile Broadband offers, with pay monthly and pay as you go options available. This makes the Three service accessible for a wide range of customers, regardless of their data needs and usage habits.
However, some customers have reported issues with customer service and network reliability. Some customers have experienced long wait times for customer support and issues with the connection dropping out.
You can read our review of Three's coverage and network downtime here.
What broadband packages do Three offer?
Three offer mobile broadband in two packages in the UK,and they're easy to understand – either 4G and 5G. These may sound a lot like MiFi or mobile broadband packages... that 's because they effectively are.
The router or "hub" you get with your Three MiFi package will have similar hardware to your mobile phone inside, meaning you can take advantage of Three's current 4G and 5G infrastructure within the UK.
The advantage of doing things this way is that you get extremely fast setup times and you also can get coverage pretty much anywhere, when you're on the go. At the cafe, at the beach, or in your bedroom.
If you order mobile broadband from Three today, you can be up and running tomorrow (as long as you choose Next Day Delivery!). I
t's a revolutionary - and surprisingly affordable - way to get online, and fast. Details of Three's two MiFi broadband packages can be found below:
5G Mobile Broadband from Three, at a glance:
Super-fast speeds
Unlimited data, subject to fair-use
No landline required - no need for an engineer visit
Simply plug and play to set up
4K streaming
1-month rolling, up to 24-month fixed contracts
No upfront cost
As you can see, Three are making home broadband much simpler with no need for an engineer to call round due to the plug-and-play setup.
The fact that you can choose between a 1-month rolling contract, all the way up to a 24-month fixed contract means that you also have the flexibility to try before you buy if you wish, or simply sign up and leave at any time.
If you're not interested in streaming or free gifts, and don't need TV alongside your broadband package, then Three MiFi may be just what you're looking for. Compare all our Broadband Only packages across the UK here.
This is in addition to the peace of mind offered by Three 's 30-day moneyback guarantee. The normal price for Three 5G home broadband is £20 per month but check the Three broadband deals on this page if you want to save money.
4G MiFi Broadband by Three: Is It Worth Getting?
If you can 't get 5G where you are or simply don 't want it, then Three also offer a 4G home broadband package, which has the following benefits:
Ample speed for everyday use
Unlimited data
30-day moneyback guarantee
No landline required - no need for an engineer visit
Fast, plug and play set up
Connect as many as 64 devices
Another way of simplifying things that Three have done is, the 4G and 5G home broadband packages are very similar, with the only major differences being the speeds on offer, and the availability.

5G is not as widespread as 4G just yet in the UK, but this is certain to change over the coming years. Both of Three's broadband packages benefit from very quick setup due to the plug and play aspect of their routers. The two packages are even the same price – making the decision between 4G and 5G a no-brainer if you 're able to get 5G where you are and want near-instant download speeds.
Can Three MiFi Broadband replace my home broadband?
In a word, yes - though Three's broadband is slightly different because it 's completely wireless and uses Three 's mobile network signal.
However, once you plug in your Three broadband hub, you will instantly get incredible internet speeds that almost give the fibre broadband providers a run for their money.
This is because Three uses 5G across the UK, but make sure you can actually get 5G in your area first, using their online checker.
Three's home broadband can do anything a traditional broadband or fibre broadband can do, but with no appointments, no engineers, no cables and - best of all – no setup cost. It's the way forward if you want to get online quickly and cheaply.
How long does it take to install Three Home Broadband?
One of the BIG selling points of Three's home broadband deals is the fact that it's so quick and easy to set up.
Whether you take out a 1-month or 24-month with Three home broadband, there's no installation required.
All you need to do is plug in your new wireless broadband hub (which will arrive the next working day if ordered before 8pm) and follow the instructions on your user guide. It 's the very definition of plug and play.
This means that there 's no need for an engineer to call round, which saves money as well as time. So, there's no setup fee which means that Three can pass these savings on to you and offer you unlimited 4G or 5G internet at home for just £20 per month - and that's if you don't use one of the Three broadband deals on this page.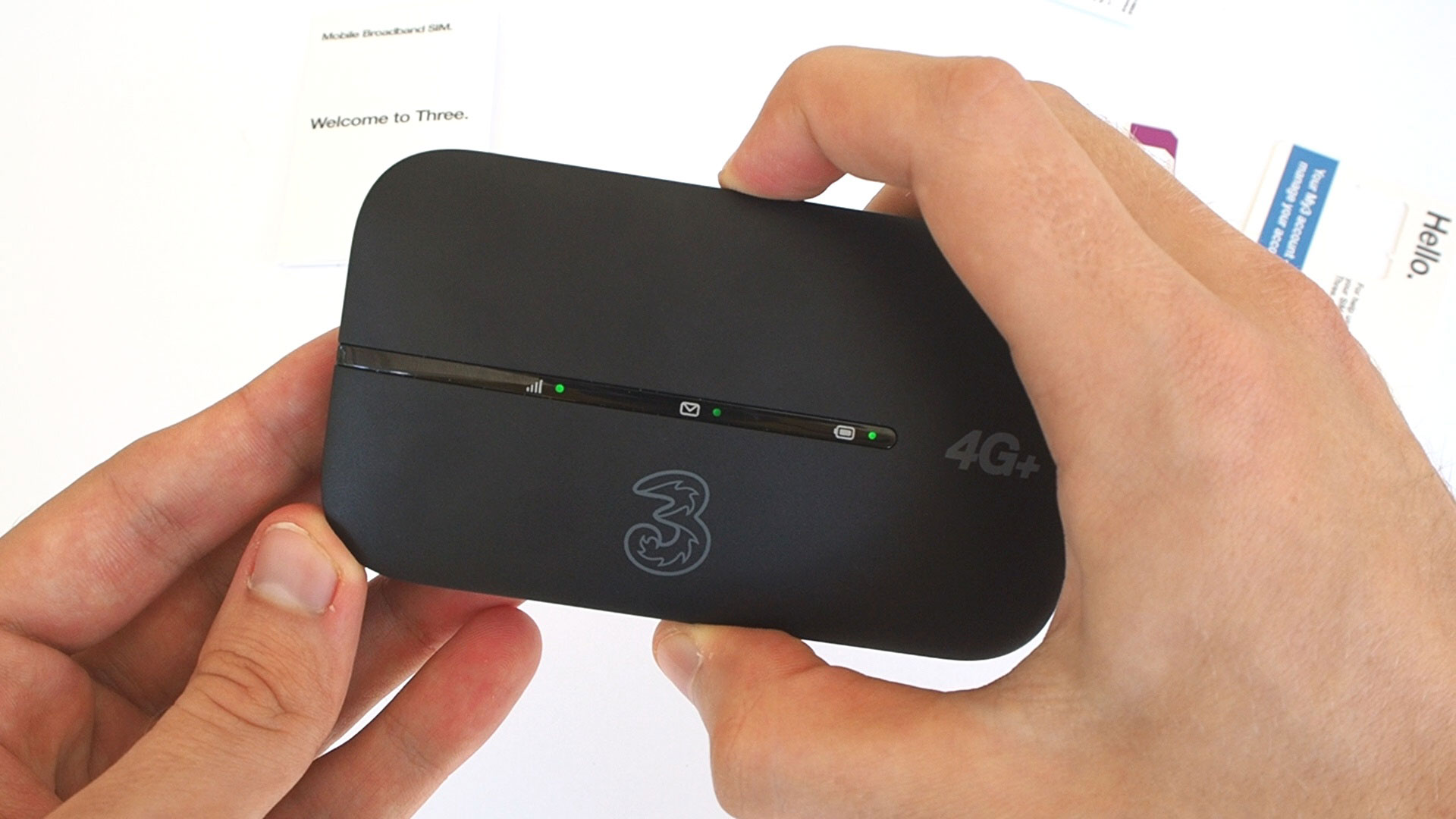 What are the best bits about joining Three Broadband?
If you like to keep things simple, then there isn't a home broadband provider out there that makes things easier than Three.
Three Home Broadband runs completely on Three 's network, which means that it 's wireless. Once you've plugged in your 4G or 5G hub (which comes free when you sign up to any package), all you need to do is follow some simple instructions on the setup guide and you will be up and running in minutes. No need for an engineer, no need for setup, just plug and play.
How much does Three broadband cost?
The pricing structure for Three home broadband is equally as simple.
There are only two packages: 4G and 5G.
Both of these deals cost the same per month - whether that's on a 1-month rolling contract or 24-month fixed contract.
And with a 30-day money-back guarantee you can have complete peace of mind when you sign up that if it 's not right for you, you can simply walk away.
Providing you are in an area that gets decent 4G or 5G coverage (Three 's 4G coverage reaches 99.8% of the UK population), then Three Home Broadband is a no-brainer if you want to save money on your broadband costs.
There is a soft credit search to join Three's mobile broadband scheme, but if that concerns you then check out our best no-credit-check broadband deals.
In conclusion, Three Mobile Broadband is a good option for those in need of a reliable and flexible mobile broadband connection. With a range of plans to choose from and good network coverage, it's a service worth considering. Just be aware that like any mobile broadband service, there may be occasional issues with network reliability and customer support.
What other mobile broadband providers are there?
Not interested in Three? Then check out these other suppliers: