Ratings & Scores for NOW
Our rating
Trustpilot rating
NOW Broadband has several great broadband deals, including NOW Broadband Essential, NOW Broadband Boost, and NOW Broadband Fab Fibre. The packages vary in terms of speed, data allowances, and price, making it easy for customers to find the right plan for their needs or budget.
For those on a tight budget, the NOW Broadband Essential package is the cheapest option.
This package offers average download speeds of 11 Mbps and comes with an unlimited data allowance. The NOW Broadband Essential package is priced at £22.99 per month, making it an affordable option for those looking for basic broadband services.
NOW Broadband speeds - Are they fast enough?
NOW Broadband's superfast fibre broadband options range from 100Mbps to 1Gbps - or what many call 'ultrafast'.
While that still isn' as fast as rivals like Virgin Media or Hyperoptic, these superfast plans still offer respectable speeds for most users. What's more, the best part about these plans is that there are no limits or usage caps. Plus, you won't have to worry about sneaky fair usage clauses or traffic management - because NOW told us they don't do any of that funny business.
NOW Broadband offers a variety of packages, including the Super Fibre, Brilliant Broadband, and Fab Fibre. Each of these packages includes a line rental and pay-as-you-go phone service, as well as unlimited evening and weekend calls. You can also add unlimited calls for free if you want to. However, these aren't essential for most users, and if you need to make a lot of calls, then you might want to opt for a lower speed.
What about NOW TV?
Now Broadband packages offer a range of premium TV offerings alongside them. While the company started out as a streaming video service, it now offers standard and superfast fibre broadband to its subscribers. These packages are often bundled with other NOW TV packages, but are also available separately.
NOW Broadband also offers no-contract options. This is beneficial for new customers because they can cancel their plans at any time.
In addition, NOW Broadband is one of the companies that does not do credit checks. This makes NOW Broadband a good choice for those on a budget or with poor credit history.
Remember that most of the NOW packages include unlimited downloads and uploads, and they don't lock customers into lengthy contracts that last 18 or 24 months like others.
NOW TV + NOW Broadband, how to get it?
Sky is, of course, one of the most well-known British broadcasters and a general tour-de-force when it comes to telecoms. So it's good news that they also own NOW Broadband.
Sky launched the highly popular NOW TV / NOW Broadband service in 2017 and it has proven to be very popular due to its unlimited usage and no hidden charges. The catch, however, is that hefty activation fee, which is non-negligible and compares badly with other broadband services.
Customer Service at NOW Broadband: Study
Although NOW TV is a good value broadband provider, a few customers have reported problems with the streaming platform side of things.
Be sure to read our review of NOW TV for more information on the coverage and customer complaints.
Of course, no company is perfect. Customers have complained of buffering and loading time issues, which can affect their experience. Nevertheless, it's worth considering NOW if you want to get unlimited broadband and premium Sky TV channels without actually getting a Sky contract.
The NOW TV service is available through a smart TV or a TV stick (now quite hard to find sadly). And you don't need to sign up for the Broadband plans if you don't want to - you can enjoy just the NOW TV benefits.
How Do I Sign Up for NOW Broadband *and* TV?
To get NOW TV and NOW Broadband together, in the UK, you can follow these steps:
Visit the NOW Broadband website: Go to the NOW Broadband website at www.nowtv.com and click on the 'Broadband' tab to view the available packages.
Choose a package: Select the NOW TV and NOW Broadband package that best suits your needs, based on the speed and data allowances you require.
Place an order: Once you have chosen your package, you can place your order by clicking on the 'Get NOW TV' button and following the steps to complete the process.
Install your equipment: After you have placed your order, you will receive your equipment, including a router and modem, in the mail. You will then need to install the equipment following the instructions provided.
Activate your services: Once your equipment is installed, you can activate your services by following the instructions provided in the welcome pack.
Start using your services: After your services have been activated, you can start using NOW TV and NOW Broadband, enjoying fast and reliable internet services and access to a wide range of TV content.
Simple!
NOW Broadband: Router & Installation
NOW Broadband does not charge set-up fees but customers may encounter non-standard installation charges if their address doesn't yet support fibre.
Most likely if you've joined recently, you'll get the Hub Two.

How to get help from NOW
If you have any questions or problems, the NOW Broadband website contains helpful links to its customer support centre, which features articles about various issues, as well as customer service phone numbers and social media accounts.
For general customer support, you can call NOW on 03303 323 050.

Whu should I choose NOW over other ISPs?
NOW Broadband offers broadband that meets industry standards and undercuts its competitors' prices. Plus, it has a wide range of speeds that suit most homes.
And it also allows customers to sign up with no credit check. NOW Broadband also comes with an optional TV bundle and free phone calls as standard.
If you're looking for the best broadband TV bundles then we also recommend you check out Sky Broadband.
How to contact NOW Broadband
If you're having problems with your NOW Broadband service, you may want to contact their customer service team, who aer based in the UK and Phillipines. They offer both phone support and live chat, but be aware that you may have to queue, especially at peak times.
Before you contact NOW Broadband, it's worth checking out some of their online reviews like these at Trustpilot.
Customee reviews, of course, offer detailed information about their services and what customers think of them. For example, you can read customer reviews by filtering by broadband and NOW Broadband. Customers also rate their prices fairly.
TIP: If you'd like to sign up for ultrafast broadband, you must first get a direct FTTP connection.
How good is NOW Broadband's service?
While NOW Broadband's customer service is generally good, it has received a bad press on Trustpilot and reviews on other websites.
Some of these complaints relate to the NOW TV service. Some users also complain that the router doesn't work well in big houses, and requires a strong signal in every room.
Still, if you're looking for a decent alternative then consider Virgin Media's broadband deals here.
Which NOW broadband plan suits my needs?
NOW Broadband has a few different plans that are suitable for the home user.
These plans offer varying speeds and include unlimited download and upload speeds, as well as unlimited email. They do not offer free modems, however, so you'll need to buy one or bring one of your own. Customers can also expect to pay a delivery fee for routers.
NOW Broadband's speeds vary by package, but they are generally faster than average.
It's possible to get 63 Mbps download speed from its Super Fibre plan, which is designed for families with multiple devices. This speed is enough to stream HD TV across multiple screens and download large files.
NOW Broadband offers a variety of broadband plans for customers to choose from. The plans are designed to meet the needs of different customers and are available in different speeds and packages. Here are the main broadband plans that NOW Broadband offers:
NOW Essential Broadband: This is a basic broadband plan with speeds of up to 17Mbps. It is ideal for those who just want to browse the internet and do some light online activities. It costs £24.99 per month with an 18-month contract.
NOW Fab Fibre: This plan provides faster speeds of up to 38Mbps, making it ideal for households that need more speed for online gaming, streaming, and downloading. The cost is £29.99 per month with an 18-month contract.
NOW Fab Fibre Plus: This is the fastest broadband plan offered by NOW Broadband, with speeds of up to 76Mbps. It is ideal for households with multiple users who are all online at the same time. The cost is £34.99 per month with an 18-month contract.
NOW TV Broadband & Entertainment Bundle: This plan combines broadband with a selection of TV channels and streaming services, such as Sky Sports and Cinema. The cost is £39.99 per month with an 18-month contract.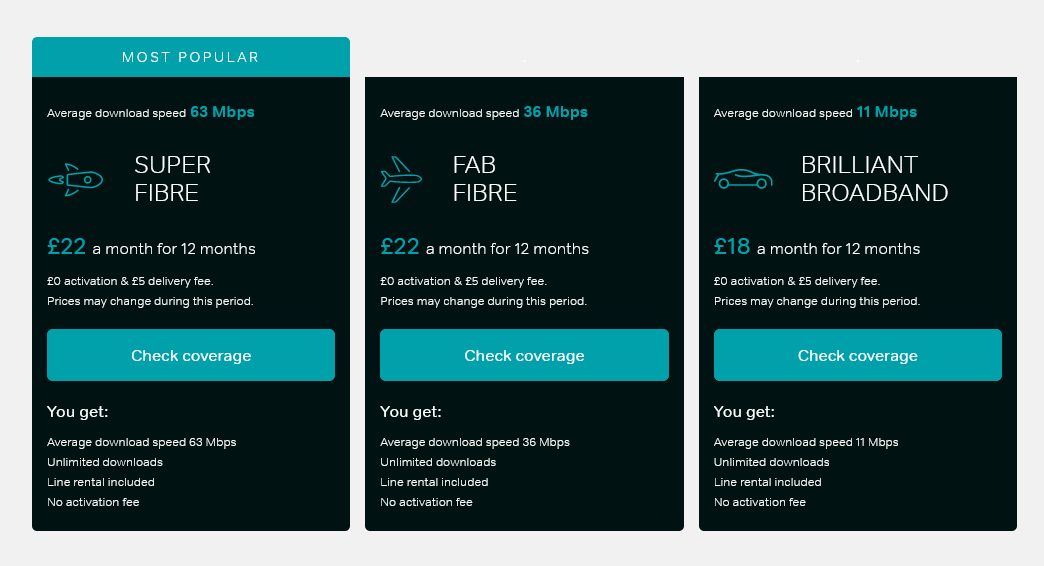 All plans come with unlimited data usage, so customers don't have to worry about data caps or extra charges. NOW Broadband also offers a free router for customers who sign up for the service.
If you are interested in fibre packages only, then make sure to compare all our UK fibre plans here.
Another feature that sets NOW Broadband apart from other broadband services is its entertainment pass. You can also, amazingly, watch Sky TV channels and Sky Sports via the service (as they're the same company).
NOW Broadband's entertainment package also gives you unlimited access to major sporting events. It's also worth noting that NOW Broadband offers competitive prices for its services. The company is aggressive in its marketing, and offers great deals and discount codes like £18 a month off.
How do I cancel NOW Broadband?
NOW Broadband customers can cancel their service without paying an early termination fee if out of contract.
They can do this either online or by calling 03330 323 050. Customers have 31 days to cancel before they are charged early termination fees. The NOW Broadband website also offers a live chat facility that can assist you in canceling your service.
If you are a current customer, you can upgrade your plan or renew your existing contract. This is a great way to save money while maintaining your current service, as well as enjoy generous shopping vouchers.
Remember to compare prices and benefits with different providers when the time comes to renew your fibre or broadband service.